We hosted an amazing AMA with VersoView on the 1st of November
And here we will put some of the best questions:
Q1. Can you introduce yourself to our community?
Certainly, my name is Alex Moody and I serve as Director of Operations of VersoView!
My background comes from building brands and businesses and started in traditional finance and eventually led me to the blockchain space where I met the founders of VersoView and joined the team!
Q2. Can you briefly tell us what is VersoView?
VersoView is the engage to earn social media platform featuring meaningful tokenized rewards.
To understand what that means, think of the recent explosion in the play-to-earn blockchain gaming narrative and then apply that concept to the time you spend on social media.
As you spend time on the platform reading publications, liking and commenting, creating content or sharing, you can earn rewards in the form of branded social tokens that have value on the platform.
Q3. Let's now talk about the milestones you have achieved so far and about your upcoming plans?
For sure. Let me start by sharing a graphic with our roadmap for your community: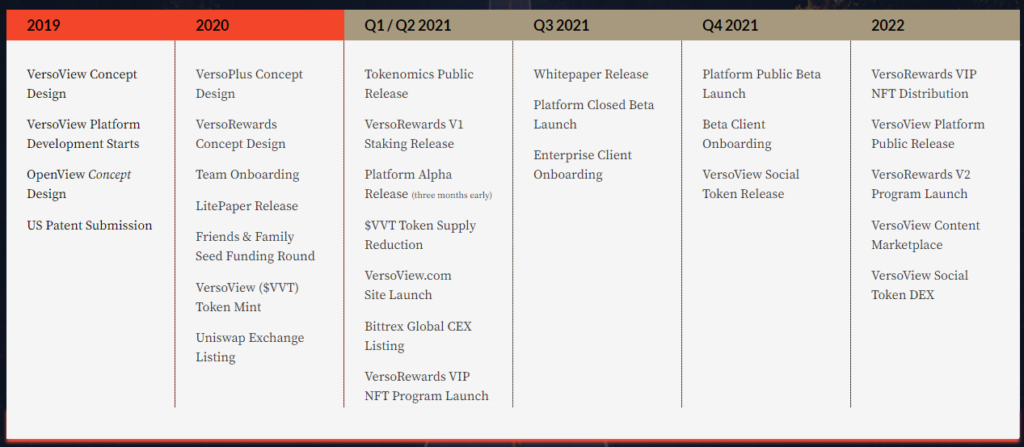 I can elaborate on it, and also it may be easier to translate my words for some than understand the picture!
To get the big picture lets look back upon the milestones of this year…
In march we launched our alpha mvp platform on Google Playstore and Apple iOS app store in partnership with Garuda Indonesia one of the largest airlines in the world.
Their inflight magazine, Colours Magazine, showcases the VersoView OpenView AI tech. Their 33,000,000 customers have access to the platform right now and so do you all if you download the app!
At the end of Q3 we entered closed beta with the largest privately owned bank in Asia running the platform on their private servers. They have in excess of 26,000,000 customer accounts and the beta is being utilized by about 140,000 of their highest net worth customers.
Q4 is big for us as we have just announced we are migrating the platform to Polygon as we prepare for Open Beta launch in Q1, and this means the token launching on Polygon and lots of exciting new community initiatives, marketing and reward opportunitys (like just this morning we announced a partnership with Guppy.Finance a polygon yield farm who will support $VVT)
Q4. Every project has a story behind their name, Can you tell us more about the story behind this? Who are the team behind this project? can tell us their background?
Lets talk about the name first, that is a great question!The name "Verso" refers to the technical term for the left-hand page in a book, and the entomology is New Latin verso (folio) "the page being turned."Verso is essentially the start of the book, hence 'it starts with a story' which is how we view the evolution of social media.The team is incredible! Our founders, CEO Julian Jordan and CPO Steve Peaple have a long history in tech, multimedia and corporate publishing.Their company Agency Fish, is hugely successful and they have three decades of experience and relationships that contribute to VersoView.You can view more about the team, their profiles and see our faces at the website:https://versoview.com/team/
Q5. NFT is one of the hottest and most sought-after topics in the blockchain space right now. Can you share your opinion on NFT with us? Do you think NFT will disrupt the current financial system? What is VersoView's approach to the NFT sector?
NFTs are amazing, and by my profile picture (wassified version of a Pudgy Penguin) you can see that I personally love NFTs from a community and art standpoint.VersoView embraces this but also expands the value NFTs can bring to traditional business beyond just the art value and community building.When we use NFTs on the platform to support syndication, monetize freelance writers, photographers and content creators able to sell and license their work inside our content marketplaces.NFTs are just starting to scratch the surface of how the technology will disrupt the world. We expect VersoView will play a big roll on advancing this initiative in digital publishing and content syndication!
And here we will put best questions from our members and VersoView fans:
Q1. VersoView employs a set of deflationary mechanisms to offset token emissions generated by the Staking program. Deflationary efforts without sustainable use cases have proved to be ineffective, so what are these uses in VersoView?
This is a great question, let me share a graphic to start: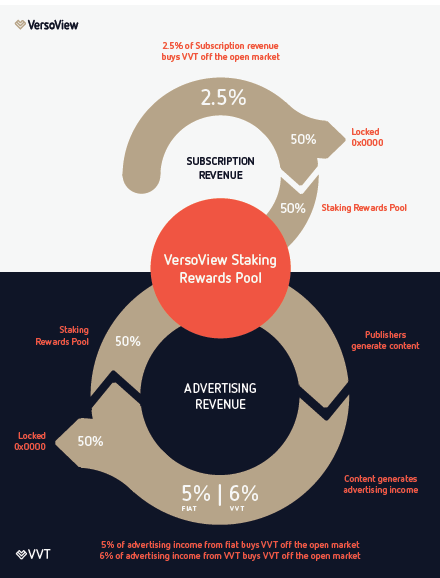 As you can see in this picture, VersoView earns revenue from subscriptions, advertising, microtxs… many different ways…And a portion of this revenue is used to market buy $VVT and half is permanently locked up in the 0x000000dead address and the other half is removed from circulation and put into the Staking Rewards Pool to extend the programs.
Q2. Versoview has generally focused on all of the following: (Publishers, Corporates, Agencies, Brands, Events)
What are the use cases for all of these?How will we, as users, benefit from the versoview project?
Here is a graphic that helps explain the many use cases for different stakeholders on the VersoView platform: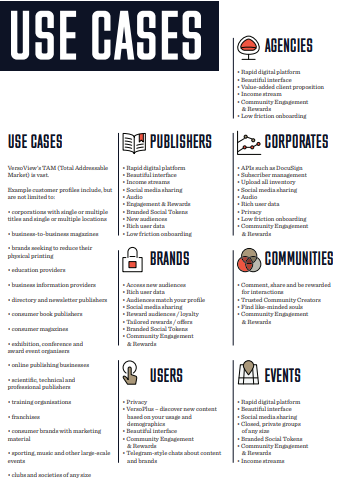 From the standpoint of you the user, VersoView finally offers you an opportunity to earn VALUE for the value you bring to a social media platform and to the businesses, brands, content creators and influencers that you engage with every day.
Think of it this way…
You spend time on Facebook, Instagram, Youtube, Medium, Telegram, Tik Tok etc… you participate, you share and add value to the platform.
But you get nothing for it.
VersoView fixes this.
Q3. After checking the website, VersoView vision & Mission is good. but it needs a large user traffic to be sustainable over time. What is your marketing strategy to increase the validity of your project brand? Are you planning a strategic partnership to level up your project?
This is true, we are not as well known as other hyped up projects and that is largely because we chose not to do a massive VC led funding round and launch and instead fair launched the token $VVT on Uniswap.This means no lockups, no vesting and no big investors dumping constantly but it also meant less hype and marketing budget.We are in a strategic partnership with Starter right now to help us in the migration launch onto Polygon and this combined with many other marketing initiatives we have underway right now we believe will really propel us forward into the communities attention!
Q4. How do you plan to spread awareness about your project in countries/regions where English is not spoken well like Indonesia, Vietnam, India, Bangladesh and Iran, do you have local communities for them to make them better understand about your project?
This is really important to us as we start to focus on growing the community and the awareness of the project beyond english speaking Telegram and Twitter followers.We have big connections in Indonesia and Asia due to our clients there (Garuda and others)We are working on translating our documentation and producing content for other languages and joining wonderful AMAs that translate our message just like Crypto Titans!We have other language telegram channels as well, right now in Japanese and Korean and we are always looking for trustworthy community managers who can establish new language communities as well!
Q5. VV plans to heavily utilize community engagement to publishers on their platform. How does the team plan to address the censorship issues that have plagued other community driven platforms like Twitter, Reddit, Facebook and Youtube? What does censorship look like on the VV app?
This is a really important question, censorship is a big issue at the primary social media companiesThe important first thing to know to understand VersoView, is we dont censor, it is an open platform and any content creator can use it to say anything no matter how "good or bad" it is.The users of the platform will have the power to up and downvote content and comments which leads to community led censorship in a way, where someone might be popular and well regarded in one micro-community on the platform but have been downvoted so much for their content and views that their minimized in other parts of the platform.Regardless its important to note that we remain unbiased and neutral as a platform.
Q6. What is the role of token in your ecosystem? Could you tell us a bit about the tokenomics of your project?
The $VVT token is the lifeblood of the platform and the primary means of exchange.
We use it to reward our community via Staking Pools and other initiatives such as the current twitter contest.
It is also the underlying means of payment on the VersoView platform.
Q7. Sir, can you tell me? How do I buy this token?
And this. How do I easily invest in your project?
The VersoView Token ($VVT) is currently tradable on Uniswap and Bittrex Global.
We have a large locked LP on Uni about $1.5m usd and we support significant liquidity on Bittrex as well.
Coming in Q4 we will be migrating the token to Polygon and will create another LP on a partner dex on Polygon that will have much lower gas costs than ETH currently does.
Q8. How important is the community to you? and how can we collaborate or help you for the development of the project?
Community means everything to us! We need your support in our Telegram channel, following us on Twitter and come Q1 and the launch of VersoView 1.0 (open beta) we would like to invite you all to come join the platform and begin earning rewards by engaging!
Q9. A few days ago you reported that VersoView had received a BUILD Grant from the Polygon Foundation, congratulations on that! What exactly is the purpose of this grant? What specific aspects of your platform will you promote thanks to this important support?
We are very honored to be awarded a BUILD grant from the Polygon Foundation!
The funds are being used to facilitate the migration of the platform to Polygon which involves new token smart contracts, bridge smart contracts, multisig setups, some adjustments to the platform code and a new LP on the destination chain.
Q10. I'm still new to crypto, how do you make Your project easy for anyone? Including those who don't understand crypto will also use Your project?
Great question, accessibility is a big priority for us, and the VersoView platform is designed to be frictionless for non-crypto native businesses and users.
We do this by building quality UX/UI and limited the need for the complexities of txs, gas wallets etc,
We will be close in V1.0 and by the time time we launch the retail platform in 2.0 I think we will have succeeded!
And this was the end of our AMA with VersoView.
If you have any other questions you can ask here:ℹ️ℹ️ Useful links ℹ️ℹ️
Website :- https://versoview.com/
Twitter :- https://twitter.com/VersoView
LinkedIn :- https://www.linkedin.com/company/versoview/about/
Facebook :- https://www.facebook.com/versoview
Telegram official community :-https://t.me/versoview