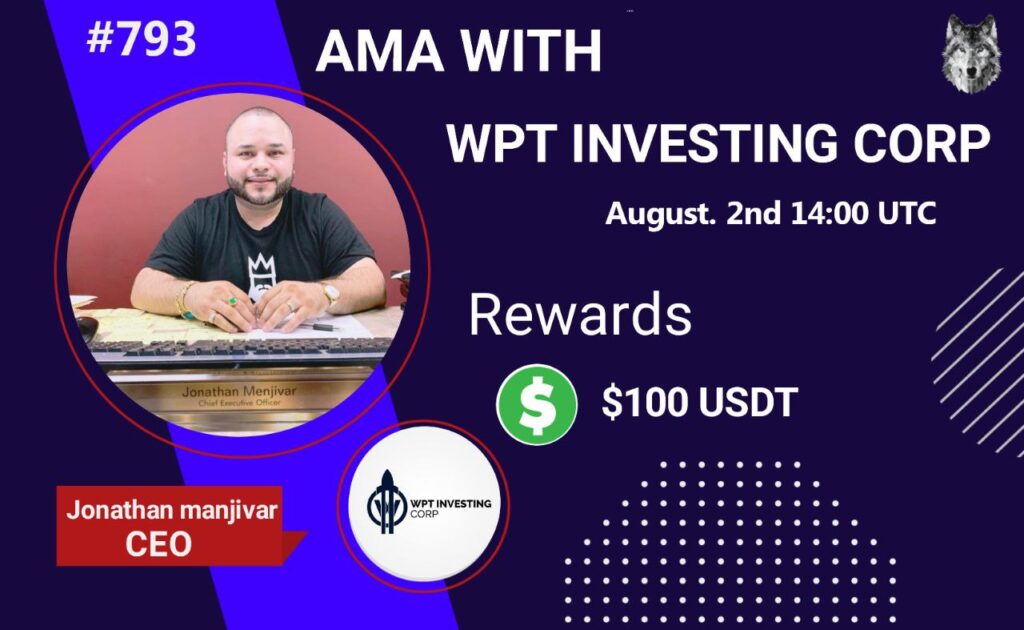 we hosted an amazing AMA with WPT INVESTING CORP on the 2nd of August
And here we will put some of the best questions:
Q1. Can you please introduce yourself as well as War Pigs Token  $WPT ?
Absolutely. My name is Erik Rude also known as SZN4CRYPT0. I've been with WPT since March started admining and then moved into doing amas on Twitter spaces, Telegram, and youtube.
We have our CEO which is Jonathan menjivar he's an entrepreneur and has been an entrepreneur for over. 15 years. Also a business consultant.
Miss Nala is our company attorney specializing in immigration law as well as crypto and blockchain Consulting. She also owns her own law firms in Georgia Pennsylvania and Dubai.
Raphael is our marketing organizer. He specializes in crypto and blockchain marketing with 6 years in corporate and project administration.
Then lastly is David our CMO and he specializes in sales and brand promotion and crypto project promoter so he does amas and also turn around Consulting.
Q2. What are the advantages of Your project ?
The advantages of our project is we're not just relying on investors buying and selling. With our project we take the taxes and convert that to Fiat and Syndicate that to Prime MCA lenders. In 2019 MCA lending was estimated to be 19.2 billion dollars in expected to grow exponentially from there. So we bring the ROI profits from the MCA lenders & buy Eth with it and that goes to our secondary rewards Treasury that supplies our staking pools for WPT, USDC, & or Bacon consistently raising the value of the token. So we're using outside corporate money that normally wouldn't be in the crypto market and we're using that to fuel the ecosystem without having to rely on just buys & sells. Not to mention by staking your WPT tokens you're able to earn passive income by earning more WPT tokens that you're able to connect through our dap that were developing and claim usdc rewards on the tokens while you're earning them. Same thing with the bacon token you have to have an nft in order to stake your nft and earn bacon token. Bacon token is Tide to the contract for the nfts through our secondary rewards Treasury so bacon is going to have its own value and its own volume from those that purchase an nft and stake them. We do plan on launching bacon to the open market and 4 to 6 months down the road so think of this as like a presale being able to collect on bacon early before we launch it to open investors on the market. Our nfts are expected to start launching in 7 days starting with the 2DS epics then a couple weeks later we'll launch our 3D legendaries and with that we'll be launching our bacon token right alongside those so our investors can start receiving that bacon token by staking as soon as those nfts become available. We're also developing an nft faucet we're outside projects are able to connect to our dap and using the same syndication process that we use for our ecosystem they're able to do the same for their project and bring Roi back to their project using our dab and we charge a transaction fee that's also used to bring back to our ecosystem for our BuyBacks. We're also working on for those that aren't familiar with staking and farming, we're also integrating for those that just want to hold their tokens on their wallet they'll still be able to collect usdc rewards for holding WPT for a certain amount of time. So the passive income with just the utilities that we have already is phenomenal and we're working on so much more.
Q3. please tell us about the goal you want to achieve in this year.
As of right now as I mentioned we're in the process of launching our nft collection, we call them beasties , along side our Bacon Token, which you can claim USDC Rewards on. We've got a dapp in development that's about finalized where people will be able to connect to that dapp to do their staking as well as their farming.
We're working on another dap for those that are on BNB and want to purchase our token we're working on a cross chain technology to be able to swap tokens at the click of a button without having to swap BNB for Eth & having to use Eth to buy our WPT token. Also right now currently we're partnered with six MCA lenders. Our goal is to reach at least 32 MCA lenders and syndications have already begun the second week of our launch. Also in Phase 4 of our roadmap we're looking at doing a play to earn game as well as developing a city in the metaverse. We also have three major Partnerships that we're going to be rolling out with in the next 7 to 14 days. Also in the works is the development of our own stable coin called dollar X. Details of this will come in the future.
Q4. Every project has a story behind their name, Can you tell us more about the story behind this? Who are the team behind this project? can tell us their background?
Everyone knows how meme tokens are popular so we wanted to come up with a catchy symbol that everyone would recognize. Everyone knows how branding is important. Now don't get it confused we are WPT investing Corps doing business as War Pigs. The War Pigs emblem is more of a appealing symbol for those on social media like Twitter telegram things of that nature as well as our Nft project & the P2E Game but we do have our professional business emblem for the corporate world when bringing in business investors
Q5. NFT is one of the hottest and most sought-after topics in the blockchain space right now. Can you share your opinion on NFT with us? Do you think NFT will disrupt the current financial system? What is Your project's approach to the NFT sector?
Personally I believe nfts are going to be the next commodity to own. Especially now nfts that we are coming out with utilities where you're actually able to stake them and earn profit from them, it's still a new concept. Not only that but with our nfts you're able to use the 3D legendaries and the 3D founders as a playable character in the p2e game as well as a usable character in the metaverse when that launches. So nfts with these kind of utilities were you're not just throwing money on it only to have a digital image in your wallet is going to be extraordinary. These are going to be nft's that will literally pay for themselves in a matter of time and earn you passive income from there on out. So we're definitely trying to be one of the projects taking nfts to that next level where everybody is going to want one.
And here we will put best questions from our members and WPT INVESTING CORP fans:
Q1. Many projects look great only on their whitepaper & Roadmap but facing a lot of difficulties when trying to implement the project mission and end with failed. How does $WPT overcome every obstacle in its project development?
Honestly I don't feel that we've hit any true obstacles as of yet. You figure we're only three and a half weeks old, just shy of a month and we're delivering utilities early by 2 to 3 weeks. Our highly skilled developer team are phenomenal and working around the clock to make sure things come out and are produced in a way that's only going to benefit the community. Everything that we've done has turned into gold so much so that it almost feels like we're delivering too much too fast for the community. There's not many projects out there that start right after lunch and already have five usable utilities with their token and as I mentioned we're adding more.
Q2. What is the structure of this project , is it decentralised or a open sourced protocol where everybody can contribute? If so, how does the governance plan on being handled?
Our governance token is WPT
We won't be renouncing our contract as we want to be listed on big centralised exchanges in the future and work our way to Blue Chip status
Q3. After seeing the Roadmap, your project vision is very good. but it needs a large user traffic to be sustainable over time. What marketing strategies do you have planned to increase the validity of your brand? Are you planning a strategic partnership to level up your project?
As a matter of fact we are launching some major marketing. As I mentioned earlier, in the next 7 to 14 days we are announcing three major Partnerships, some of which are well known. Also because Jonathan is a business consultant for other major corporations he's been able to make partnership relationships and get investors involved in the project and they're not even involved in crypto. 16 of our seed investors that are vested are from the corporate world that aren't involved in crypto. So we're reaching to outside corporate institutions to bring in long-term investors. We do have a strong supportive community. As of right now with the 276 holders that we have 80% of them are staked or farming. People that see our project and our roadmap they see the vision and they know what we've got coming it's just a matter of getting the word out and breaking the project down and explaining it so people can understand it because it is a new concept.
Q4. Could you explain what are the main use cases of WARPIGS token within the WARPIGS ecosystem? Does it really have value from an investor's point of view? Do you have mechanisms to increase its demand?
These are the utilities we have so far and we're less than a month old. The token is going to have value by bringing the ROI profit from the MCA lenders that's going to be used to buy back our WPT tokens, our usdc rewards, as well as our bacon token so it's going to be raising the value of those tokens without having to do any Burns or remove any liquidity. That secondary rewards Treasury will will keep buying WPT and bacon tokens as well as usdc and when that amount gets to a large amount we're able to find a new floor with a higher value of that token like I said without having to do any Burns. There's only 10 million Supply & Bacon Token is only going to have a supply of 1 million
*1) Dual Corporate Treasury: Used to syndicate Corporate Earned tax funds with top MCA Prime Lenders. Bringing 10% to 20% of RL Corporate ROI back into the Ecosystem while our Corporate Rewards Treasury distributes Rewards % to $WPT, $Bacon & $USDC Pools as well as constant Buy Backs.
2) Staking: Our amazing pools are connected to our dual corporate /rewards treasuries. This allows for high % rewards for our $USDC Pools, $WPT Pools & $Bacon Pools.
3) Yield Farms: Our Brewlabs Developed farming system will allow holders to reap the benefits of extra rewards and access our DEFI protocols while adding support to our liquidity. Farm & Earn.
4) NFT Utility: our stake-able Blue Chip Type NFTs will allow you to earn $Bacon token while staking them. You will be able to claim USDC rewards with $Bacon. Also, we have added an extra RL Product (Energy Powder Mix) that will bring in a percentage of sales back into the corporate rewards treasury. Benefiting our NFT holders and NFT stakers!
5) NFT Faucet/DApp: Crypto projects & Investors can MINT a 30/60/90 day term NFT matching the amount wished to be syndicated via our corporate $WPT Treasury. Roi will then revert back into Faucet/DApp at the end of term along with intial investment all while burning the NFT. Rinse & Repeat for high % returns.
Q5. I need to know your plan on how you intend attracting users to your platform from all over the world, be it crypto and non crypto  enthusiasts? Currently are there any regional and legal limitations to using your project?
Well as I mentioned we do have the major marketing rolling out and the 7 to 14 days, we are scheduling and reaching out to do more and more amas to get the word out, and we are working on the cross chain capability to be able to allow users from other blockchains to be able to easily swap their tokens and buy WPT. As I also mentioned Jonathan is working on new Partnerships for MCAS all the time. Currently we have six MCA lenders with an estimated 32 in total in the near future. As of right now no there are no Regional or legal limitations for using the project. The best part about a crypto blockchain consultant is she's constantly checking with SEC regulations to make sure we stay within legal guidelines. We are taking the utmost steps to make sure we are doing everything by the book to ensure our longevity of the project.
Q6. Every investor has certain indicators that they use to decide whether to invest or not, but for me I have 4 pillars that attract me;
1 security
2 utilities
3 partnerships
4 community
5 Twitter
How do you plan to achieve this to attract investors like me?
Honestly as of right now we have either the community backing in over a thousand or 1600 kg members over 3,000 Twitter followers we have a strong community, we have five utilities & we're less than a month old, as I mentioned Partnerships were bringing on and we have a strong Twitter presence. Security we have also we have anti-well mechanisms in place as well as anti-bot mechanisms in place and those will be in effect when we launch our dat where people will connect their wallets to do staking and farming. We are audited through labs but we are expecting a third party audit from Tech rate also for the extra added security.
Q7. Where can I buy a token right now?
The token is currently available on uniswap, however we are looking into doing smaller centralized exchanges in the near future
Q8. Who do you see as your biggest competitors?
Honestly we're not one of those projects that try to consider any other project as a competitor. We're more of a project that want to bring utility and help other projects grow, which is why we designed the nft faucet to help other projects bring utility to their project and help them be able to bring necessary funds that they need for marketing or development.
Q9. Was there an audit of smart contracts for tokens? Will there be any audit or not in the future?
Yes we have had audits done. For those that are familiar with Brew labs they construct contracts as well as doing audits but we know we understand the security is important especially with tokens and you know rug pulls going on so we are expecting a third party audit from Tech rate and that's coming anywhere in the near future.
Q10. What is your top 3 things for priorities in 2022? Could you share some plans for the upcoming year? Please ans this question.Do you allow suggestions and feedback from the community? Are we allowed in decision making, do you put community into consideration?
Our top three things are priorities in 2022 or of course getting our entities launched alongside with bacon token, completing our nft faucet, and making Partnerships with MCA lenders. We do allow suggestions and feedback from the community. We are very much a Community Driven token that's always willing to accept suggestions from the community.
Q11. Is your project is  only for elite investors, how about others with small funds, is it open to everyone?
No absolutely not our project is not just for elites. Even small investors are able to get in stake their tokens or farm, and able to turn a reasonable profit. And as I mentioned in the future we will be releasing two small centralized exchanges where it'll be even more accessible as well as the DAP that's in development for cross-chain swapping.
And this was the end of our AMA with WPT INVESTING CORP.
You can find us here:
Website :http://Warpigs.io/
Telegram community :https://t.me/wptwarpigstoken
Twitter :https://twitter.com/WarPigsToken
Twitter :https://twitter.com/WPT_Investing
GitHub :https://github.com/WPT-Investing-Corp
Instagram :https://www.instagram.com/warpingstoken/
Discord :https://discord.gg/cVDz3KCp
Reddit :https://www.reddit.com/r/WPT_Investing_Corp/
YouTube :https://youtube.com/channel/UCw_flbQkcqXynpj_Tvz4t2A