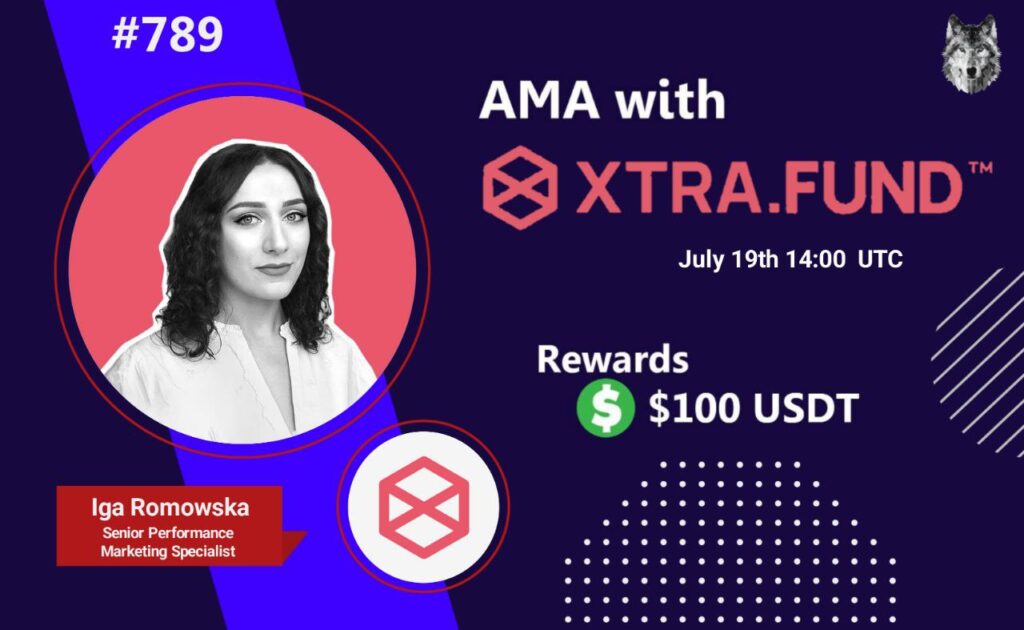 we hosted an amazing AMA with XTRA.FUND on the 19th of JulyAnd here we will put some of the best questions:
Q1. Can you please introduce yourself as well as XTRA.FUND ?
Sure! Hello everyone! My name is Iga Romowska and I am a Senior Performance Marketing Specialist here at XTRA.FUND 👋XTRA.FUND is the World's First DeFi Platform With Price Drop Protection.🔒 When user stakes XTRA.FUND Tokens on our app https://app.xtra.fund/, they receive a protection against the drop of up to 90% in token price, which of course is dependent on the stake length the user chooses and dollar value of the initial stake.The larger benefit comes with staking for a longer period of time. 😁The longer one stakes, the bigger the protection of invested sum and higher APY (XTRA.FUND offers stakers a competitive 14-45% APY during times when the token gains in price).
Q2. What are the advantages of Your project ?
The uniqueness of our project comes from XTRA Lending Fund. You can say it is a kind of bridge between traditional B2B lending businesses, and investors (DeFi). XTRA Lending Fund (XLF) specializes in loans to micro and small businesses (B2B). Thanks to this cooperation, XTRA.FUND can share high profits that come from such cooperation and distribute them to its users (a source of APY for stakers).😉XTRA.FUND is therefore a combination of the world of real-world profits arising from loans with the world of blockchain technology.🤝
Q3. please tell us about the goal you want to achieve in this year.
Part of our vision is to create the most robust community of like minded DeFi users in the cryptocurrency world that understand crypto investment can be safe, secure, intuitive and rewarding. We are launching a dedicated domain XTRA.CLUB which further develop this focus and community.Very exciting feature, that takes the concept even further, is XTRA LAUNCHPAD, which will enable profitable, prescreened businesses to get started in an efficient and community-driven way. 🚀Our community will be able to participate in exclusive projects and have special discounts to get involved. 🙌Each project will also receive their own version of price protection based on the XTRA PROTECTION feature.It is a very thrilling time for our team. 👥We are having frequent meetings with institutional investors from all over the world and can see a great interest from their side. It also gives us an insight into how to guide our project for it to truly succeed.
Q4. Every project has a story behind their name, Can you tell us more about the story behind this? Who are the team behind this project? can tell us their background?
Our core team consists of crypto veterans, financial experts, smart contract wizards, top designers, and marketing geniuses all united by the cause, like a team of superheroes. 🦸‍♂️Our network of advisors is also fairly impressive – from crypto degens to true financial moguls.
Q5. NFT is one of the hottest and most sought-after topics in the blockchain space right now. Can you share your opinion on NFT with us? Do you think NFT will disrupt the current financial system? What is Your project's approach to the NFT sector?
We are proud to announce the launch of an early alpha version of Blockrating, a project that is taking FOMO out of NFTs & Crypto and of course is powered by XTRA.FUND.😁Blockrating will aim to both instantly price, as well as predict the pricing of blockchain-based assets including cryptocurrencies and NFTs with a high level of unrivaled accuracy. Blockrating aims to tackle one of the biggest obstacles to mass crypto & NFT adoption, that is, a lack of data-driven and accurate pricing along with reliable predictive analytics & forecasting.I highly encourage you guys to check it out 👉: https://www.blockrating.io/
And here we will put best questions from our members and XTRA.FUND fans :
Q1. STAKING is one of the strategy to attract users and HODL them and LONGTERM. So, does your project have staking program? If so, can you tell us how can we stake in XTRA.FUND platform? How high is your APR? And is there any specific amount to stake?
To get the XTRA PROTECTION price drop benefit you have to stake a minimum of 1 XTRA.FUND token for 10 days minimum. When a user stakes XTRA.FUND Tokens they can earn 14%-45% APY, and at the same time, they receive protection against the drop in token price of up to 90%.Here is how staking works:1. First, you have to create an account on Metamask and connect it with the PancakeSwap Exchange where you can buy XTRA.FUND Tokens​.2. Then you go into the https://app.xtra.fund/ and connect your Metamask. Choose the number of tokens you want to stake and the staking period.3. Sit back, relax and enjoy. 🙂About staking…we have a special BONUS CODE on our XTRA.FUND website right now, maybe it is something you will find interesting 😉 It is only for a short period of time.https://www.xtra.fund/promotions/
Q2. XTRA FUND has an "additional security" system. My question is, is this feature fully secure and automated, is it powered by an autonomous decentralized smart contract that releases XTRA FUND tokens during times of falling prices and replenishes when there are gains?
XTRA PROTECTION is managed by a highly secure self-governing smart contract and consists of an automated algorithm designed to survive any market conditions. In case the token price decreases ($ value)📉, it releases tokens to cover the loss. When token price increases 📈, XTRA PROTECTION replenishes.
Q3. Investors always look at the long term about any project. What are the benefits for investors holding your token for the long term? Which does key advantages XTRA FUND project have in term of price stability, credible, mobility, liquidity, and technology?
It is worth mentioning here that the development of our core products has already been COMPLETED so we do not bear any risk associated with it.One of the advantages of investing in our token comes with staking it for a desired period of time (minimum 10 days); however, the larger benefit is that  the longer one stakes our token, the bigger the protection of invested sum and higher APY (if applicable). Thanks to its collaboration with a consortia of established lending companies, XTRA.FUND is able to offer stakers a competitive APY during times when the token gains in price.XTRA PROTECTION provides investors with price stability, because it mitigates any risk with their investment, when price of the token decreases. The recovered amount of tokens is calculated on the basis of token value in dollars.💲The innovation within our project comes from the fact that XTRA PROTECTION is decentralized and inaccessible to anyone, including the XTRA.FUND team! 🔐It consists of 80% of the initial number of all tokens in circulation.
Q4. Can you list 1-3 killer features of this project that makes it ahead of its competitors? What is the competitive advantage your project has that you feel most confident about?
1.We give the opportunity to earn, a still profitable return on an investment, while protecting users from the price drop.💰2. XTRA PROTECTION is based on a smart contract that is self-sufficient and provides the community with the highest level of protection.⛑3. Combining traditional financial market (a network of reputable and well established B2B lending businesses) with blockchain technology is a crucial key of the project!🦾
Q5. Colloboarations and Investors are Also equally Important For the growth of platform , So Have You made a Wise Decision In Choosing your Investors and Partners , Could You please tell me About them ?
Our marketing aims not only to reach people who invest in crypto but also for those who keep an eye on it but have not decided on investing in it yet.With us, they have the opportunity to experience something unavailable anywhere, much less in traditional finance – algorithmic protection of the initiating investment up to a certain level of the price drop. We've already seen that it can help take that step.About partnerships, at this point, we can only talk about the types of partnerships that are on the horizon, without giving specific names (companies and individuals).🤫- Family offices- Investment funds- Pension funds- Influential people from the world of traditional finance and DeFiYou have no choice, you have to stay tuned!
Q6. What is the minimum staking ? And Will there be any Penalty if I Want to Terminate my stakings? On what basis it will be calculated?
To get the XTRA PROTECTION price drop benefit you have to stake a minimum of 1 XTRA.FUND token for 10 days minimum.There are terms and conditions that apply to staking and ending the stake earlier. It is calculated on the basis of: – dollar value of your initial stake– period you were originally going to stake for– period you actually staked forAn example: A user made a stake of 1000 XTRA.FUND Tokens for 10 days and after 8 days they decided to liquidate the positions. They will get 80% the dollar value of their initial stake (maximum 800 XTRA.FUND Tokens).You can read more in our FAQ https://www.xtra.fund/faq/
Q7. Do you allow suggestions and feedback from the community? Are we allowed in decision making, do you put community into consideration ?
Yes! We are trying to deliver customer-focused solutions. Governance is something that we are looking into potentially. XTRA.FUND stakers gain access to an exclusive XTRA LAUNCHPAD. It gives them the opportunity to participate, very early on, in top-tier, thoroughly screened projects that we believe have a strong potential. Additionally, each project will have an XTRA PROTECTION version for their token. The opportunity will also offer special discounts to get involved.
Q8. Since NFT is popular nowadays, Is there a PLAN for NFT integration?
NFT integration is the focus thanks to launching Blockrating.io https://www.blockrating.io/ It is something that we, as a team, and external investor see a lot of value in and that is powered by our XTRA.FUND project 🥳
Q9. Is your project a community only for English speaking an countries or for users not of other languages?
For now our website is in English, but we are building the community all over the world and planning to translate it to other languages as well, we really care about making it community driven 🤜🤛
Q10. You say that XTRA.FUND offers rewarding benefits to its users, regardless of market conditions, does that mean that we can enjoy your services when there are market drops only? or even in the increases can I benefit?
The main distinction of our project is its security, because it has never been done before. That is why we try to communicate it and explain for everyone who might be interested in such thing, we have all seen how current market looks and some of us experinced investing in projects such as LUNA first-hand. 😬But it is not the only thing our project has to offer. 😉It is just a beginning. We do offer profit from gain in dollar value of the token price and competitive APY during times (14-45% we all know it is a lot!) when the token gains in price. The ROI can be 14-1000%. It all depends on how long do you want to stake. I highly encourage you guys to check out FAQ https://www.xtra.fund/faq/ there are some good examples that might give you a better perspective on it.You also get access to XTRA Launchpad projects at an early stage of development at an additional discount.And of course, last but definetely not least, we are building the XTRA.CLUB commmunity, a space to educate about financial investments. By creating the XTRA CLUB community we want to provide its members with exclusive content, life-changing connections and, most importantly, new ways of achieving financial freedom.
And this was the end of our AMA with XTRA.FUND
If you have any other questions you can ask here: https://t.me/xtra_fund_official_2_0
Useful links:
Website: http://XTRA.FUND/
Twitter: https://twitter.com/xtra_fund
Facebook: https://www.facebook.com/xtra.fund/
Instagram: https://www.instagram.com/xtra.fund_official